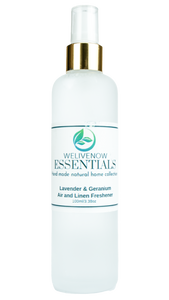 If you are seeking an air freshener that soothes and relaxes your senses while also gently reinvigorating your mindset then this is the Air Freshener you have been wishing for. You will adore our special blend of Lavender and Geranium in this all natural Air Freshener. 
Our Air Freshener is a mix of essential oils, alcohol and distilled water, ( purified water), that is non toxic with no hidden nasties making it safe to use in your home. 
A winning blend of carefully selected Lavender and Geranium pure essential oils that have captured the perfect scent you will want to keep handy anywhere you want to relax. Its soothing and relaxing scent will instantly destress you and make you feel more at ease. 
We suggest keeping a bottle in the lounge and spraying the scent as you get cozy and curl up with a good book on a Sunday.
It is also perfect for spraying on your pillow before you go to sleep for its relaxing scent is sure to give you sweet dreams. 
All you need to do is shake the bottle and spray as needed. We suggest you buy two so you always have a backup bottle handy for when you run out.