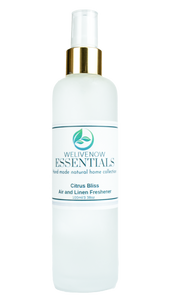 If you have ever wanted that feeling of warm summer sun on your skin, as the smell of fresh citrus fruit wafts through the air, captured in a bottle. Well let's introduce you to our Air Freshener that is a winning blend of fresh,citrus essential oils. 
Our Air Freshener is a mix of essential oils, alcohol and distilled water, ( purified water), that is non toxic with no hidden nasties making it safe to use in your home. 
We created a carefully selected blend of citrus essential oils that have captured this essence and everytime you spray it you will instantly feel energized, uplifted and a little happier. Our air freshener has a fresh but sweet smell that will instantly lift the mood of your home and infuse it with an instant refreshing scent to your space. 
We suggest keeping one of these in your bathroom and you can also add a spritz to your laundry to give it that air dried, out in the summer, sunshine smell. 
It also is excellent to spray onto dirty sneakers or shoes before they walk through your home. 
All you need to do is shake the bottle and spray as needed. We suggest you buy two so you always have a backup bottle handy for when you run out.