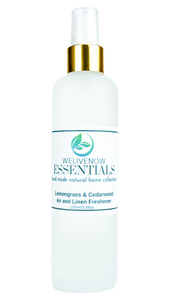 This Air Freshener combines the feeling of a fresh Autumn walk, as your feet crunch through the crisply fallen leaves and smell that heady woody air. 
The secret to the scent of our Air Freshener is the combination of Lemongrass and Cedarwood pure essential oils. 
Our Air Freshener is a mix of essential oils, alcohol and distilled water, ( purified water), that is non toxic with no hidden nasties making it safe to use in your home. 
This blend of Lemongrass and Cedarwood essential oils will energise and invigorate the mood of your home. This scent blend is perfect for the bathroom or kitchen, a quick spritz will refresh and delight your senses. 
All you need to do is shake the bottle and spray as needed. We suggest you buy two so you always have a backup bottle handy for when you run out.