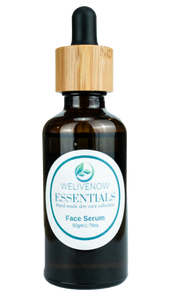 Imagine coating your face with a serum that has been created especially to address all your skin issues while working to ensure your skin regains its healthy glow. 
This is where our face serum flies in to save your skin, this serum is a supercharged potion of fabulousness that feels like a warm hug. We often refer to this magical potion as our sleeping beauty of serums because its blend is designed to rejuvenate your beauty while you sleep. 
A combination of organic sunflower oil and the perfect blend of pure essential oils our serum not only nourishes and supports your skin but it is designed to assist it in regenerating while you sleep. 
We suggest using it on freshly cleansed skin just before you hop into bed. It has been created to repair your skin cells allowing them to regenerate while you sleep. 
As an added bonus the smell of this serum often helps you relax into a deep slumber