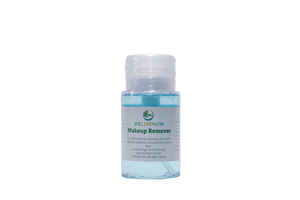 When it comes to removing your makeup, it is understandable that you search online for an all natural, non toxic alternative. 
If you choose to use only natural ingredients in your skincare and makeup routine. Then it makes little sense to remove your makeup with products that contain harsh and often toxic chemicals that can damage and irritate your skin. 
So we listened and created one of our most popular additions to our product line. 
Our makeup remover contains grapefruit pure essential oil which is a natural exfoliant to the skin it contains both astringent and emollient properties that soothe and detoxify your skin. We added gentle, all natural aloe vera mixed with purified water to create a completely natural, toxic free makeup remover that will remove your makeup while nourishing your skin 
This one size fits all is perfect for all skin types as it contains no harmful toxins or chemicals. Designed to soothe, nourish and detoxify your skin this is the makeup remover you have been looking for. 
You may want to stock up on a few as we often sell out.