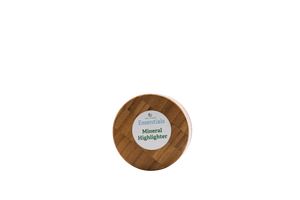 If you are seeking some extra definition that adds a sparkle only certain rays of sunshine can achieve. 
Then you will want to add our Mineral Highlighter to your cart right now!. This highlighter is the perfect way to add a glint of gleam or sparkle to your face. It will bring out your features and make them glow in ways you thought only your fave insta filter can do. 
Our mineral highlighter is the perfect way to add a touch of definition that gleams. Simply brush it onto your cheekbones or nose and add a radiant but subtle spark to your skin. You will definitely want to pair this with our mineral foundation and mineral blush to give you that glowing skin you thought only a professional makeup artist and photography studio could achieve. 
Our mineral highlighter is perfect for adding a radiant but subtle glow to your skin. If you want extra definition use it with our mineral bronzer. 
This mineral highlight is perfect for wearing during the day and will add a glamorous accent to your nighttime look. 
Hot application tips 
Tap off any excess powder before applying 
Use the correct makeup brush for each area. 
For cheekbones use a medium tapered brush 

Use a smaller fan brush for applying to your nose or lips 
For a glam nighttime look 
Mix a small amount of mineral highlighter with your mineral foundation. 
Apply all over for a luminous, glowing look 

Pair with our blush to add some glow 

Use our Mineral Bronzer to give your face that final sculpted definition
Ingredients: Mica, Titanium Dioxide, Zinc Oxied, CI77492, CI77491, CI77499, Squalene- Vegetable, Silica