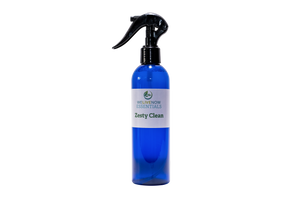 If you are passionate about sustainability and protecting the earth then using toxic chemical laden cleaning products doesn't make any sense. Especially when mother nature has provided us with some all natural ingredients and pure essential oils that clean,sanitise and de grime just as effectively, if not better than their supermarket standards. 
Our Zesty Clean has been created with all natural, all organic ingredients which will allow you to clean all your surfaces effectively but in an environmentally, ethically friendly way. This all natural cleaning spray protects not only your home but also the environment. 
Our Zesty Clean is a potent potion of organic,liquid castile soap, cleaner concentrate, distilled water that is blended with Tea tree, Lemon and Eucalyptus pure essential oils 
These three pure essential oils all have powerful cleaning properties: 
Tea Tree pure essential oil is the perfect antibacterial solution to ensuring your home stays germ free. 
Lemon pure essential oil is an effective addition to removing all oil and grease from your household surface as well as keeping it smelling fresh and clean, 
Eucalyptus pure essential oil has powerful cleaning properties that will ensure your house is kept sparkling and clean. 
Our all natural Zesty Clean is the all purpose, all natural, toxic free cleaning product you have been searching for. It works for cleaning bathrooms, kitchens and all surfaces and will ensure your house stays dirt free as well as toxic free.